Market Report September '21 and YTD
What a year it has been so far in the Maui real estate market. There has been an enormous amount of property value appreciation in a short period of time. Record sales prices combined with record-low inventory have made 2021 a challenging year for many buyers. It's also been an exciting time for buyers with access to extremely low-interest rates and increased Fannie Mae and Freddie Mac maximum loan amounts, now sitting at $937,500 on Maui.
Condos and Homes Roughly Equal on YTD Sales
1.84 billion dollars of single-family residential properties and 1.772 billion dollars of condominiums have been transacted year to date on Maui. Both represent approximately a 120% increase over the same period of 2020. Year to date average sales price of a single-family property sits at $1,767,867 and $957,057 for a condo. Thanks to many great clients I've personally sold and currently have under contract over 15 million in sales year to date in 2021.
As the Season Changes, So Might the Market
Seasonally, September represents the beginning of a traditional cooling period in the market that typically lasts through the middle of December. While we are dealing with other unique variables contributing to the current market conditions(i.e. Low-interest rates, low inventory) we could say that the market looks like it might take a breath, albeit a small one, but we aren't necessarily cooling.
The market will need significantly more inventory to begin to cool as buyer demand remains strong. The median sales price for single-family homes dipped 4.6% versus last month to $996,500 while median sales prices for condos were up 11.6% to $722,500.
Months Supply of Inventory
Our current month's supply of condo inventory is sitting at 0.7 months while single-family homes have 1.8 months supply. This metric represents the expected time for the current inventory to be sold. See the graph below to see just how low we are on inventory compared to historical data. If you've been looking for a condo for sale in Wailea, you've noticed a few things coming on the market lately, yet if they are priced well you've also seen them go pending quickly. A couple of great Kapalua condos came on the market in the last two weeks but all went pending very quickly too.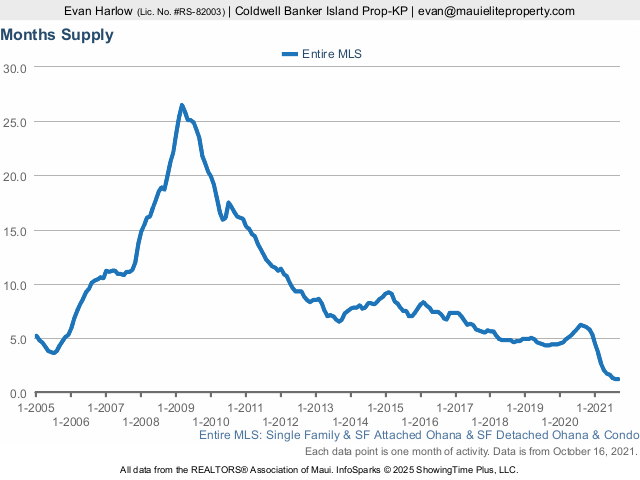 Buyer Demand Hasn't Gone Anywhere
Buyers are still actively writing purchase contracts and sellers are as reluctant as they have ever been to sell despite record prices. The issue of finding a replacement property has become a real issue for those looking to sell and those that own income-producing properties are seeing record rents and great occupancy percentages giving them little incentive to sell.
While sales prices seem like they have gone parabolic, they have only recently exceeded the prices witnessed during the boom of the mid-2000's decade prior to the housing bubble being burst.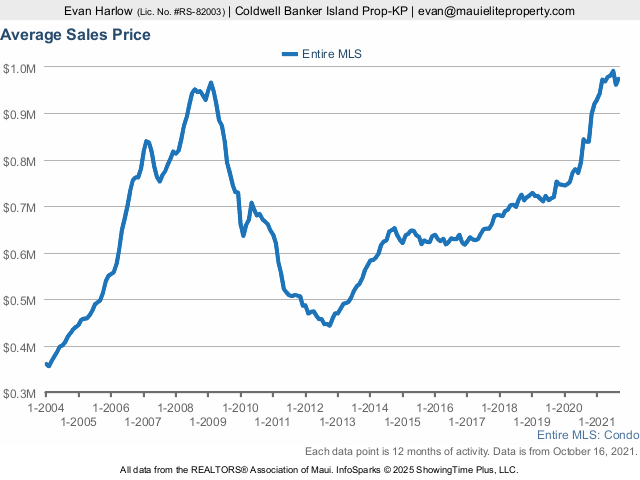 Your Maui Real Estate Search Starts Here
It's All Up To The Fed At This Point
Until broader economic conditions change with regards to interest rates, expect buyer demand to remain consistent. We should expect the next couple of months to stay below average inventory and perhaps there will be an increase after the Christmas and New Years' holidays as there usually is in our market.
If you have any questions or want to discuss the market at greater length, you can always reach me at 808-214-4799 or by sending an email to evan@mauieliteproperty.com.
Take a look at the full breakdown and statistics as provided by Title Guaranty.
Get In Touch!




Evan Harlow is a Realtor on Maui who has the expertise, experience, and work ethic to help you achieve all of your real estate buying or selling goals. We promise exceptional service and support from the beginning of the process through closing and beyond.


Posted by Evan Harlow R(S) 82003 on