Kihei Condos By The Numbers
| | |
| --- | --- |
| Average Price | $1M |
| Lowest Price | $369K |
| Highest Price | $2.5M |
| Total Listings | 92 |
| Avg. Days On Market | 66 |
| Avg. Price/SQFT | $1.2K |
Property Types (active listings)
Condos in Kihei For Sale
Recent Condo Sales in Kihei
What Makes Kihei a Great Place to Own a Condo?
Most searches for condos on Maui begin with choosing a community that you prefer. Kihei and Ka'anapali have the most condo complexes by area because of their proximity to some of Maui's best beaches. The beaches in Kihei are certainly one of the big reasons that many choose to buy a condo in the area.
South Kihei Condos For Sale
Kihei is also a popular vacation destination making it a great place to own a short-term rentable condo as an investment that you also get to enjoy. With average occupancy rates in the 80 and 90 percent ranges, most owners see sizeable returns on their investments from vacation rentals. In addition to the investment income, owners get to enjoy the condo anytime they want!
North Kihei Condos For Sale
Kihei Sands
Nani Kai Hele
The Development Of Kihei As a Tourist Destination
Kihei blossomed into a popular tourist destination during the 1960s and 1970s. At that time, television productions like Hawaii 5-0 raised public awareness about Hawaii's scenic beauty and its remarkable beaches.
Breathtaking oceanfront complexes like the Mana Kai and Menehune Shores, along with long-term rentable complexes preferred by Maui residents such as Kamalani and Kai Ani Villages, make the Kihei condo market one of the hottest places to buy on Maui.
Kihei implemented a Civic Development Plan in 1970, allowing the community to control many aspects of its growth. In 2013, the Maui Times Weekly voted it the best residential community in Maui County.
Today, Kihei supports a permanent population of more than 20,000. It extends across a nearly 12 square mile area. South Kihei developed into a busy center served by numerous resorts and hotels.
It supports an active nightlife. North Kihei begins where the coastline angles abruptly to proceed in the direction of Ma'alaea. It provides a slightly quieter milieu and includes a higher percentage of long-term residential properties. Both sections of town adjoin stunning beach fronts. Maui real estate buyers can discover appealing Kihei condos for sale in both the northern and southern parts of town.
Kihei Condos Market Statistics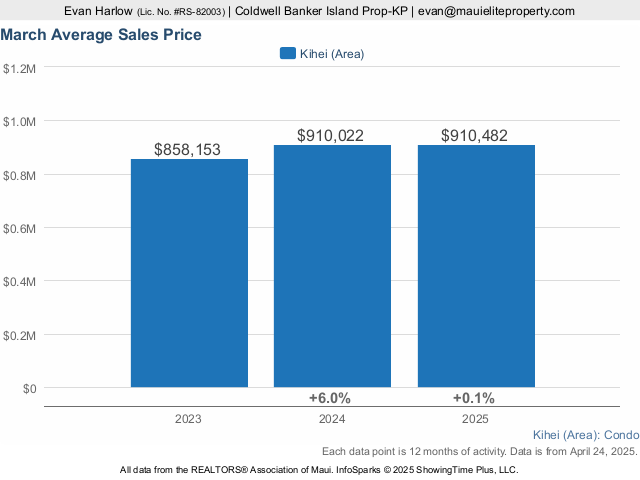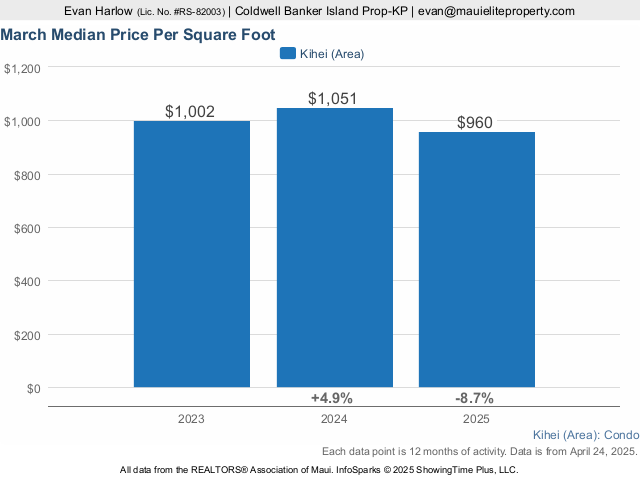 How To Choose The Right Kihei Condo For You
Now that you've decided Kihei is the place for you, you'll want to narrow down your search by price. Long-term rentable complexes start in the $500,000's and short-term rentable complexes start in the $700,000's. The easiest way to find the perfect condo complex for you is to reach out to us and have a Kihei condo expert keep you updated with the best condos in your price range currently on the market.
Condominium developments in Kihei frequently form components of resorts and hotels. Hotel guests, time shareowners, and long-term residents may share many of the recreational opportunities supplied by condo communities, for example. Kihei condo purchasers discover they sometimes receive in-demand vacation amenities, such as available housekeeping and concierge services.
South Kihei Condos
In South Kihei, one popular choice includes the elegant Maui Kamaole Sands managed by Castle Resorts and Hotels. It offers an eye-catching landscape, supplying some 15 acres of carefully tended grounds and gardens. The furnished one-bedroom condos stand directly across from the Kamaole Beach Park III.
Several other condominium communities attract savvy home buyers in South Kihei, too. Other quality complexes close to the beach in Kihei are Maui Parkshore, Maui Banyon, Kihei Akahi, Pacific Shores, Royal Mauian, Maui Hill, Kamaole Beach Royale, Maui Vista, Kihei Alii Kai, Maui Kamaole, and Shores of Maui. The availability of vacation attractions makes this location ideal for condo owners.
North Kihei Condos
Of course, North Kihei also boasts lovely condominium communities.

Menehune Shores was built in 1976 and offers 154 stylish condo units. It includes some 3-bedroom floor plans. This beautifully landscaped property maintains an oceanfront site providing panoramic sparkling blue Pacific Ocean views. Residents enjoy exceptional outdoor recreational opportunities.
Some other locations that may feature condominiums in North Kihei include Kauhale Makai, Maalaea Surf Resort, Kihei Bay Vista, Koa Lagoon, Leinaala Ocean Front, Kihei Garden Estates, Sugar Beach Resort, Kihei Bay Surf, and Maui Sunset (to name just a few). Properties often don't reach the realty resales marketplace frequently here. Maui condo buyers gain advantages by considering every listing in detail.
Kihei Has Many Short-Term Condo Rentals
Numerous restrictions apply to short-term vacation condo rentals in Maui. Maui County implements stringent zoning rules. Since this region appeals to large numbers of vacation seekers, important distinctions exist between different types of realty and among permitted rental uses.
Both the current community plan and applicable zoning regulations help determine permitted property uses. Whether a condo buyer selects a property in a well-established development like Kamaole Sands or in a comparatively new site, like Kamalani, it's important to conduct careful research before making a condo available for short-term rental purposes.
Get More Information About Kihei Condos For Sale
Investing in real estate on Maui involves some finesse. Most Maui real estate buyers discover the advantages of working closely with a knowledgeable local Maui realtor. While these Kihei condos for sale often require a significant financial investment, in many cases, these properties also hold the potential to yield lucrative returns.
Discover the benefits of owning luxurious residential accommodations in one of the most in-demand vacation hot spots in the world. A condo in Kihei allows property owners to enjoy access to an array of fun outdoor recreational activities not available in many other places. The incredible natural beauty of this part of Maui entices residents and visitors alike. Consider learning more about Kihei condos for sale soon!
Get In Touch!
Evan Harlow is a Realtor on Maui who has the expertise, experience, and work ethic to help you achieve all of your real estate buying or selling goals. We promise exceptional service and support from the beginning of the process through closing and beyond.
Related Blogs
By Evan Harlow R(S) 82003 | June 28, 2023
Maui is A Great Place to Be a Beer Connoisseur(Snob)

While beer isn't my personal drink of choice, I do have to admit, I have enjoyed a few varieties of beer at the following Maui establishments. Especially Mahalo Aleworks, my personal favorite. I live Upcountry in Pukalani and before Mahalo Aleworks came…
Start searching for your dream home now.
When it comes to convenience, our site is unparalleled. Whether you're in the comfort of your home, or on the go.
Our site works flawlessly on multiple devices so you can find the information you need.
Start Search